Gum Contouring in Locust Valley
If you're embarrassed about your smile due to gum damage or simply showing off too much of your gums, cosmetic gum contouring can help. By precisely and proportionally altering the amount of gum tissue to reveal more of your teeth, Dr. Koster can give you a naturally beautiful smile that you can be confident about.
Is there something you would like to change about your smile?
Cosmetic gum sculpting is a procedure designed to enhance the appearance of gums for aesthetic reasons. Whereas in the past this procedure was only capable of being performed with a scalpel and sutures, dental laser technology allows gum sculpting to be gentle and precise while requiring very little recovery time.
Gum sculpting with a soft tissue laser at Locust Valley Dentistry provides permanent results. This procedure can help raise self-esteem and give you a reason to smile more.
Ready to begin your journey to a healthy smile?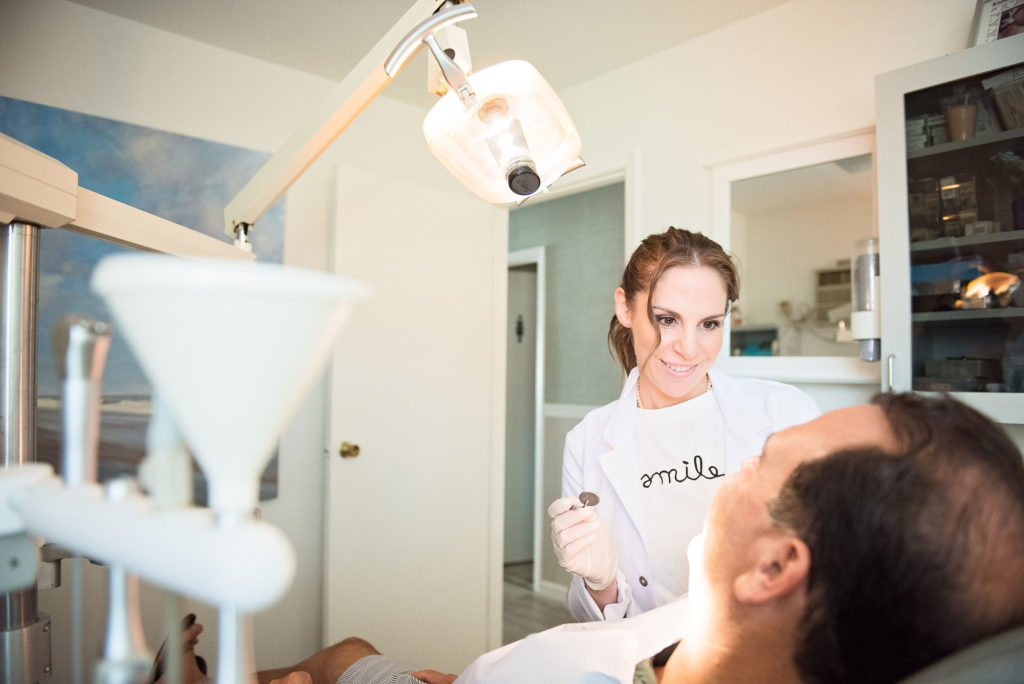 What Causes Gums to Become Uneven?
A gummy smile is one where a larger-than-normal amount of gum tissue is shown during a natural smile. This can be caused by any number of factors or even a combination of them.
First, teeth may not have fully or properly erupted when coming in. This results in a high proportion of visible tissue being gums rather than teeth. Second, a person may have hyperactive lip muscles that reveal more of their mouth than they would like. Finally, overgrowth of the upper jaw can push gums forward, causing a more gummy smile.
These various causes mean that there are multiple solutions to fixing a gummy smile, which is why it's best to get evaluated by Dr. Koster before committing to any 'one' treatment method, such as gum contouring.
When is it Medically Necessary?
Gum sculpting is not usually considered medically necessary except in rare cases. The soft tissue laser that is used for this procedure can also be used in periodontal therapy, as the laser energy kills bacteria and cauterizes the area on which it's used. In this case, the procedure would likely be considered medically necessary. In cases of wanting cosmetic goals and also experiencing some gum disease, insurance may help cover the cost of the procedure.
When performed for purely aesthetic reasons, gum contouring will likely not be considered a medical necessity, which means it won't be covered by insurance. At Locust Valley Dentistry, we will make sure your dental desires are met and create a financing plan that works for you so you can have restored confidence in your smile after gum contouring.
How is Cosmetic Gum Contouring Performed?
After a dental consultation with Dr. Koster, we'll schedule a date for your gum sculpting procedure. On the day of treatment, we'll apply an anesthetic to the area being contoured to ensure your comfort. Next, Dr. Koster will use a soft tissue dental laser to precisely etch away excess gum tissue. The laser sterilizes as it works, as well as cauterizing tissue to prevent bleeding. This means that you enjoy the added benefit of reducing your risk of gum disease.
Patients have said that their laser gum sculpting procedures were nearly painless. A local anesthetic applied to the gums helps the procedure be comfortable, and is not always needed as the laser is not very painful on its own.
Some side effects may occur after the procedure, such as having swollen or sensitive gums, but these should dissipate after a few days.
At what age do gums start to recede?
Can veneers fix receding gums?
Do gums grow back after gum contouring?
Can Cosmetic Dentistry fix receding gums?
Can surgery fix receding gums?
Can braces fix an uneven gum line?
How can I fix my gum line?
How can I get thicker gums?
How is gum contouring done?
Is gum contouring painful?
How Long is the Recovery from Cosmetic Gum Contouring?
People undergoing cosmetic gum contouring typically feel fully back to normal by two to three days after the procedure. Because the laser cauterizes tissue as it works, healing is quick and comfortable, and patients can eat and drink as normal, except for avoiding foods and drinks that could irritate or damage the sensitive gum tissue, such as chips, spicy food, and overly hot dishes.
Although the gums may be sensitive, it's vital to continue practicing good oral hygiene as you recover from gum contouring. You can benefit from using a soft-bristle brush and adjusting your flossing technique to avoid any harsh contact with the gums. In addition, it may help to use an alcohol-free, gum-friendly mouthwash to ensure you're getting all corners of your mouth clean and bacteria-free.
tings.
Thanks to her work at many of Manhattan's top cosmetic dental practices, Dr. Adrianne Koster has seen how a more beautiful smile can improve her patients' appearance and quality of life. She helps her patients achieve outstanding results and smiles that are healthy and beautiful.
Dr. Koster has been named a "Top New York Dentist" every year since 2016 based on her:
Attention to detail and skill
Warm, caring, and attentive rapport with patients
Emphasis on her patients' happiness and comfort
Continued study of the latest dental technology
Passion for changing lives through cosmetic dentistry
If you're nervous about visiting the dentist, don't worry.
At Locust Valley Dentists, we are known for being gentle, warm, and friendly. This will be the most relaxing and comfortable dental experience of your life! To decrease anxiety during treatment we offer our patients:
Convenient office hours to fit the busiest schedules
There's never any stress or judgment here
Our modern, calm, and relaxing office is one of a kind
Learn how veneers improve your health, appearance, and life
No Insurance? No problem.
Even if you don't have dental insurance, you can still get the perfect smile you've always dreamed about! At Locust Valley Dentists, we provide a variety of financing options. We're here to answer all of your questions.
For your treatment, our office is able to work with many PPO insurances.
Our friendly and knowledgeable front office team will help you file your claim and maximize your benefits. If you don't see your provider listed or if you have questions about payment options, contact our office to learn more.
" Dr. Koster is a great dentist who is patient, attentive, and gentle.  She took the time to explain every treatment option available and made sure that all of my questions and concerns were addressed. The staff is very friendly and always willing to work around my schedule.  I would definitely recommend Dr. Koster for your dental care. "
- Jeniza K.
" I love this office! Dr Koster knows what she's doing and has great staff that are friendly and professional! What I appreciate the most is her attention to detail, looking out for my best interest and letting me know what's happening with my health so I can take better care of myself. This Doctor is truly someone who cares about her patients!!! "
- Renee S.
" Dr. Adrianne Koster is Amazing! She is caring, gentle, extremely personable, and provides exceptional dentistry. The staff is very professional and nice. Thank you! I love my new smile. "
- Maria G.