White Spot Treatment in Locust Valley
Near Queens and Long Island, NY
What causes my teeth to have white spots?
There's more than one way for white spots to appear on your teeth. These spots are often the result of decalcification, which occurs when minerals like phosphorus and calcium are stripped from the structure of your teeth. This ends up dissolving tooth enamel, leading to the production of white spots. Here are some of the ways that decalcification can be triggered.
Fluoride is generally good for your oral health, but an excess amount of fluoride can create white spots on the teeth. This process, known as fluorosis, often affects children while their teeth are still developing.
What you eat has an impact on your teeth. Over time, acidic foods and drinks can break down enamel and cause white spots to appear. Additionally, sugary foods can contribute to the buildup of plaque, which also leads to the erosion of enamel.
Bacteria tends to thrive in our mouths, building up with the food and drinks we consume. As the bacteria builds up, it starts to break down the enamel. The term for this occurrence is known as plaque and it can lead to the production of white spots. To prevent the buildup of bacteria, it's important to brush and floss your teeth every day.
Enamel hypoplasia is a condition that causes mineral loss, which results in less enamel than normal. While less common than these other causes of white spots, enamel hypoplasia can occur for a variety of reasons. For some, they are simply born with the condition. Usually, it happens in those with a nutritional deficiency potentially caused by certain medications, an autoimmune disorder, or diet. It has also been shown to occur during pregnancy.
Braces are great for straightening your teeth. Unfortunately, once they are removed you may notice some white spots that have accumulated on your teeth. These are usually found in the areas where the brackets were glued on or where plaque accumulated leading to minerals being stripped from the teeth.
Certain medications may contribute to the appearance of white spots on the teeth. Specifically, antibiotics have been shown to make it easier for bacteria to eat through tooth enamel. Children are more likely to be affected by medications in this way.
Ready to begin your journey to a healthy smile?
Can the white spots be removed?
ICON white spot treatment is a great method of removing white spots from the teeth. Before this innovative treatment was invented, the only way to get rid of white spots involved drilling, and porcelain restorations. Unlike those highly invasive procedures, ICON can treat white spots through an effective and painless process.
What is the ICON white spot treatment process?
The ICON white spot treatment consists of a resin infiltration that essentially fills in the white spots. Dr. Koster will prep the treatment area to allow for the resin to take hold. This involves either micro-abrasion or polishing of the spot, followed by an application of etching material. Once the area is well-prepped, she will apply the resin. When this happens, the resin will soak into the tooth and infiltrate the white spot lesions. Then, the excess resin will be removed and a light will be used to harden the remaining resin. Finally, the teeth will be polished, giving you a brand new look. On average, this treatment usually takes about an hour to complete.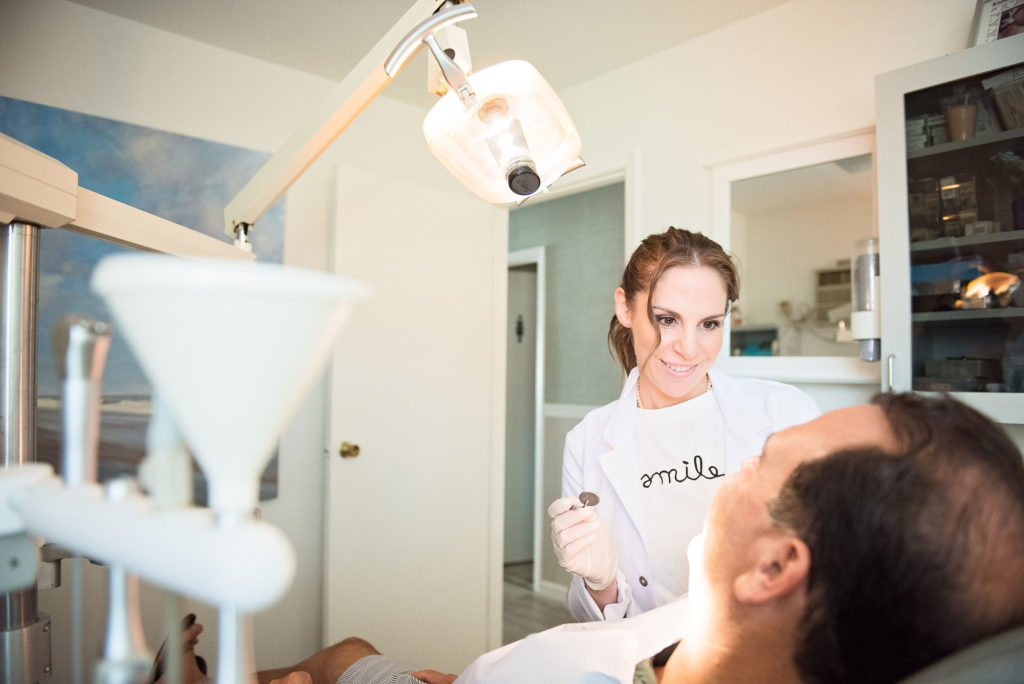 White Spot Treatment FAQs
What are the white spots on my teeth?
What causes white spots on the teeth?
Are white tooth spots natural?
How do you treat white spots on the teeth?
Can a dentist fix white spots?
Is it bad to have a white spot on your tooth?
Is a white spot a cavity?
How long does it take for white spots to become cavities?
Can I get rid of white spots on my teeth naturally?
Can white spots on teeth go away?
What is the recovery process from the ICON white spot treatment?
Once your treatment is complete, you won't have to worry about managing any discomfort since the ICON treatment is a painless procedure. Another benefit is that ICON allows Dr. Koster to save as much healthy tooth structure as possible, so you don't have to worry about losing your original tooth structure.  
In order to maintain the results of your procedure, it's important to maintain proper oral hygiene. Dr. Koster will help you go over potential causes of your white spots, allowing you to know what to look out for and avoid. If you keep up with healthy practices, the results of your ICON treatment can last for about three years. This estimated time length will vary depending on the patient. The good news is that you can always go back and get a touch-up when needed.
How do I care for my teeth after the ICON white spot treatment?
Maintaining proper oral hygiene is essential to preventing more white spots from appearing on your teeth. Make sure that you are always brushing your teeth twice a day for two minutes. Flossing will also be a crucial part of your daily routine since brushing can't always clear all of the bacteria and plaque that accumulate between the teeth throughout the day. 
A healthy diet will also have a positive impact on the appearance and health of your teeth and mouth. Avoiding an excessive amount of sugary foods and drinks will help to prevent unnecessary damage to the structure of your teeth. 
Keeping up with routine care is a great way to keep your mouth healthy and avoid the production of white spots. However, there's only so much you can do at home to clean your mouth. This is why visiting your dentist regularly is just as important. Ideally, you should be scheduling dental appointments every four to six months. 
Thanks to her work at many of Manhattan's top cosmetic dental practices, Dr. Adrianne Koster has seen how a more beautiful smile can improve her patients' appearance and quality of life. She helps her patients achieve outstanding results and smiles that are healthy and beautiful.
Dr. Koster has been named a "Top New York Dentist" every year since 2016 based on her:
Attention to detail and skill
Warm, caring, and attentive rapport with patients
Emphasis on her patients' happiness and comfort
Continued study of the latest dental technology
Passion for changing lives through cosmetic dentistry
If you're nervous about visiting the dentist, don't worry.
At Locust Valley Dentists, we are known for being gentle, warm, and friendly. This will be the most relaxing and comfortable dental experience of your life! To decrease anxiety during treatment we offer our patients:
Convenient office hours to fit the busiest schedules
There's never any stress or judgment here
Our modern, calm, and relaxing office is one of a kind
Learn how veneers improve your health, appearance, and life
No Insurance? No problem.
Even if you don't have dental insurance, you can still get the perfect smile you've always dreamed about! At Locust Valley Dentists, we provide a variety of financing options. We're here to answer all of your questions.
For your treatment, our office is able to work with many PPO insurances.
Our friendly and knowledgeable front office team will help you file your claim and maximize your benefits. If you don't see your provider listed or if you have questions about payment options, contact our office to learn more.
" Dr. Koster is a great dentist who is patient, attentive, and gentle.  She took the time to explain every treatment option available and made sure that all of my questions and concerns were addressed. The staff is very friendly and always willing to work around my schedule.  I would definitely recommend Dr. Koster for your dental care. "
- Jeniza K.
" I love this office! Dr Koster knows what she's doing and has great staff that are friendly and professional! What I appreciate the most is her attention to detail, looking out for my best interest and letting me know what's happening with my health so I can take better care of myself. This Doctor is truly someone who cares about her patients!!! "
- Renee S.
" Dr. Adrianne Koster is Amazing! She is caring, gentle, extremely personable, and provides exceptional dentistry. The staff is very professional and nice. Thank you! I love my new smile. "
- Maria G.