Locust Valley Dentists in Glen Cove, NY
At Locust Valley Dentistry, our award-winning practice offers family, cosmetic, and restorative care to address any and all of your dental needs and desires. We pride ourselves on the calm, comfortable atmosphere that most people would never associate with their dentist's office in addition to the top-notch patient care and technology we employ to serve our patients well.
We believe you'll discover the Locust Valley difference starting from your first phone call to your first appointment and each visit after that, for both yourself and your family. We're proud to offer our comprehensive dental services to everyone in and near Glen Cove, New York.
Most people are familiar with the standard, traditional dentist practice where you can hear whirring drills and muffled question-and-answer sessions between the dentist and patient. At Locust Valley, we strive to make our practice unique, which is why we intentionally designed the patient experience to be soothing, relaxing, and personalized to your needs. Whether its helping distract yourself from the process with noise-cancelling headphones or creating a calm atmosphere with aromatherapy, we want to make your regular dental checkups to be a thing to enjoy, if not look forward to.
Our dental hygienists are trained to use gentle cleaning and polishing techniques to keep your teeth bright, healthy, and plaque-free while designing the perfect smile for your healthy teeth and gums.
Our general dental services include:
Dr. Adrianne Koster helps patients achieve beautiful, healthy, and confident smiles. That's the focus and goal of her cosmetic work at Locust Valley Dentists. She's an award-winning dentist known for her attention to detail and skillful use of the latest dental technologies and treatments. Patients who visit her practice learn about their dental health and all of the cosmetic dental treatments available to them.
She is a graduate of The State University at Stony Brook Dental School and completed a General Practice Residency at the Long Island College Hospital in Brooklyn, NY where she treated an underserved community and developed her clinical skills. During her early career, she worked at several prestigious Manhattan practices where she developed her unique patient-first approach to cosmetic dentistry.
We understand that everyone has their own oral care routine, background, and access to dental services, which is why we offer no judgment for those who need restorative care, whether as simple as filling in a cavity or more extensive procedures. Dr. Adrienne Koster is trained and experienced in addressing any dental needs to ensure you have a functional and natural-looking smile, no matter what your needs are.
We offer the following restorative dental procedures:
Ready to begin your journey to a healthy smile?
Your smile says a lot about you, and for people who don't love the way they show their teeth, it can be cause for concern and low self-esteem. Our cosmetic dentistry services help address your issues, whether your teeth are a non-ideal shade of white or if they have natural gaps or gumminess you want to be adjusted.
From minor adjustments to permanent porcelain veneers, we have you covered with our cosmetic procedures: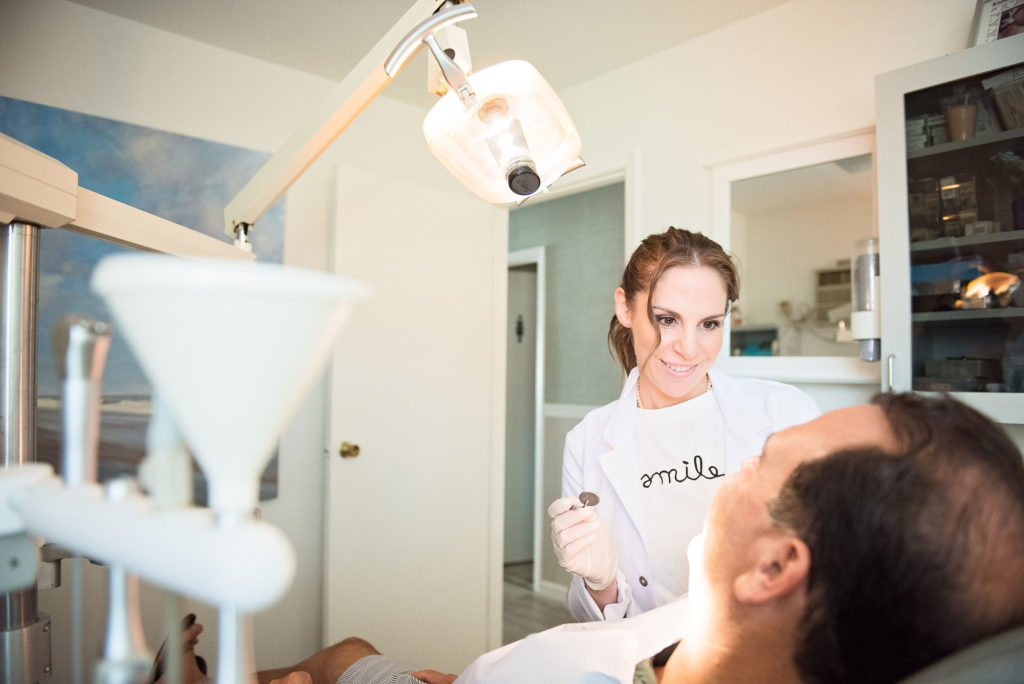 Bright white teeth are the envy of everyone who feels like theirs are dim, dull, or too yellowed. Locust Valley provides professional-grade teeth whitening treatments both in-office and for take-home whitening to help your teeth shine as bright as you want. Our Zoom whitening gel is paired with a high-powered light treatment to help the tooth whitener work more quickly and efficiently in just a single treatment. And for those who want continued improvement over the course of the following weeks, our take-home trays can continue the process for the whitest-looking teeth of your life!
Dr. Koster and the whole Locust Valley team loves helping people of all ages experience good dental hygiene at all stages of life. We make it convenient to schedule family visits to ease the burden on your busy schedule for your kids while encouraging consistent dental hygiene habits from the first visit. Kids and teens have ever-evolving dental needs, and our team is here to help them navigate their oral health from the first lost tooth to the last day of braces.
A close neighbor to New York City, Glen Cove is a North Shore city on Long Island that was made popular, if not famous, by its early wealthy inhabitants including the families of JP Morgan and Charles Pratt. Glen Cove is home to nearly 30,000 residents and has been the site of several major and international manufacturers. Many of the wealthy residents' mansions and land have been repurposed to serve as public institutions or parks, and the Great Depression-era Post Office is a nationally recognized Historic Building.
Schedule a Consultation at Locust Valley Dentists
To learn more about your cosmetic dentistry options in Locust Valley, schedule a consultation with Dr. Koster. Call Locust Valley Dentists at (516) 759-2288 or contact us online.
Why choose Locust Valley Dentists?
Our convenient office has hours to fit your busy schedule
You'll find no stress and no judgments here, just a focus on your smile
Our modern, calm, and relaxing office has the cosmetic treatments you need
Learn how to improve the aesthetics of your smile from our friendly team
No Insurance? No problem.
We believe you don't need dental insurance to achieve the beautiful smile of your dreams. We work with our patients and offer a variety of flexible financing options. If you have questions about how much your visit will cost, just let us know.
Locust Valley Dentists works with most PPO insurance providers.
We can help you file your claim and maximize insurance benefits for your cosmetic treatments. Don't see your insurer listed? Have questions about payment options?
Call us at (516) 759-2288 for more information.
" Dr. Koster is the absolute best. I wish I had found her sooner. She really cares about her patients! "
- Kelly M.
" I had a great appointment with Dr. Koster. She is really knowledgable and friendly. Not pushy like my last dentist. Highly recommend! "
- Djuro K.
" Dr Koster is very knowledgeable about all aspects of Dental Care. She also has a caring nature  I would highly recommend her. "
- Linda C.