Locust Valley Dentists in Glen Head, NY
If you've been to dentist after dentist looking for a less clinical, uncomfortable, confusing experience from your New York dentist, it might be time to try Locust Valley Dentists near Glen Head, NY. Our dentist, Dr. Adrienne Koster has curated an award-winning practice for cosmetic and general dentistry that is relaxed, comfortable, and patient-oriented whether you're receiving regular care or elective treatments for your smile.
Our team and our services are family-friendly and comprehensive and uses the latest techniques and technologies to not only make your care more accurate and quick, but also more gentle and enjoyable.
At Locust Valley Dentists, our dental services encompass anything patients in Glen Head might need for their oral health.
Everyone requires regular dental hygiene both at home and at a dentist's office to ensure their teeth, gums, and mouth (among other parts of the head) are healthy and clean. This not only prevents negative consequences like teeth stains and tooth decay, but can also detect issues like tooth grinding, jaw clenching, and oral cancer.

However, just because these are regular checkups doesn't mean your general dentistry can't be personalized to help you feel safe and at home in our office. To that end, we offer soothing aromatherapy, headphones with your choice of music, or even mild sedatives to help keep patients of all ages relaxed during their appointments.

We offer the following general dentistry services:
Dr. Adrianne Koster helps patients achieve beautiful, healthy, and confident smiles. That's the focus and goal of her cosmetic work at Locust Valley Dentists. She's an award-winning dentist known for her attention to detail and skillful use of the latest dental technologies and treatments. Patients who visit her practice learn about their dental health and all of the cosmetic dental treatments available to them.
She is a graduate of The State University at Stony Brook Dental School and completed a General Practice Residency at the Long Island College Hospital in Brooklyn, NY where she treated an underserved community and developed her clinical skills. During her early career, she worked at several prestigious Manhattan practices where she developed her unique patient-first approach to cosmetic dentistry.
There's no shame in admitting it's been a while since you've been to the dentist, no matter how old you are. However, in many cases where it's been years since you've been in for professional cleaning, tooth decay of varying kinds may have set in, requiring restorative dental techniques to protect your teeth from further decay and side effects like tooth loss and pain.
Fortunately, even in the most severe cases, we offer highly natural-looking, long-lasting, and satisfying tooth and smile restorations using the latest and best dental tools and materials to help your teeth look and function well for years to come.
Our restorative services include:
Ready to begin your journey to a healthy smile?
Not everyone is blessed with naturally straight, white, well-shaped teeth, even after orthodontia treatments have finished. If your teeth are crowding again, if you're noticing stains or other pigmentation problems, or even just want to make your smile look better without knowing what exactly is wrong, we have treatments to help.

From veneers to Invisalign, our cosmetic dentistry options include: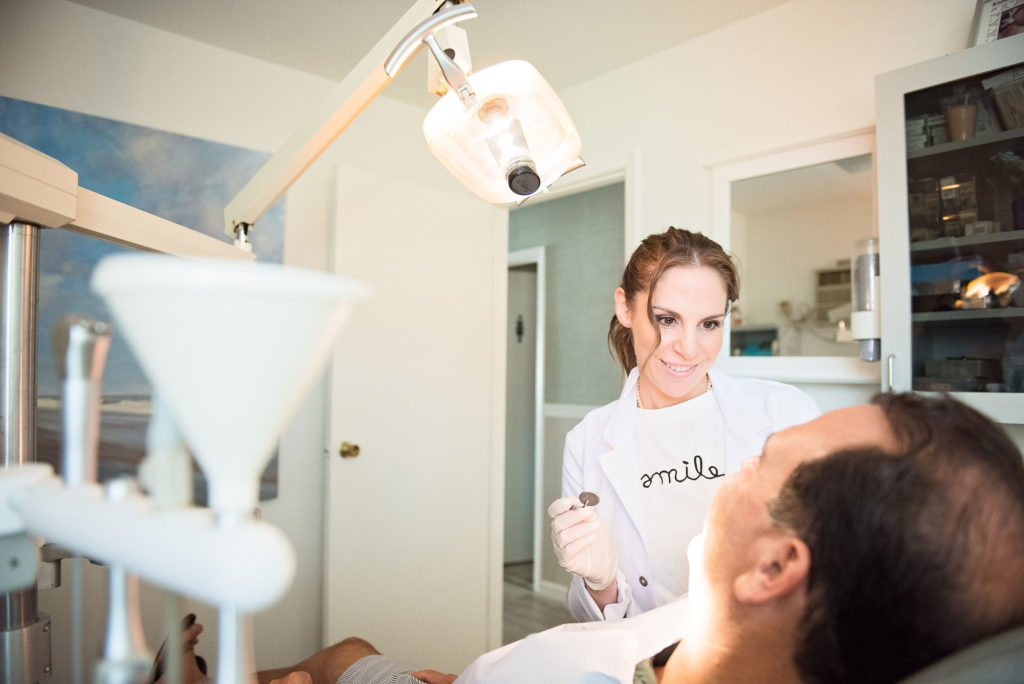 Whether you've tried over-the-counter whitening strips or treatments to no avail, or you want a faster, more professional whitening treatment, Locust Valley is here to help. We use both in-office and take-home treatments manufactured by Zoom whitening. This potent teeth bleaching gel is accelerated by a special wavelength of light for shades improvement in just a single session.

Learn more about:
At Locust Valley Dentists, our doors are open for people of all ages. Pediatric dentistry is important for teaching kids to start good dental habits early while receiving regular cleanings to prevent tooth decay from becoming a bigger issue in the future. Once your kids reach their teenage years, a lot changes, including their dental health plan. Many begin or finish up with braces or other orthodontic treatment, and keeping care of their newly aligned teeth or navigating wires and brackets when brushing can be tricky. For all ages of cosmetic and dental health, we're here to help:
A hamlet within Oyster Bay in Nassau County on Long Island, Glen Head is home to nearly 5,000 residents in its 1.6 square miles of land. It's largely a family-oriented village with about a fifth of the population reporting as non-families in the 2020 census. Glen Head is predominantly associated with the greater Glen Cove area, a region that stretches to the north shore of Long Island and is known for being the home of the City of Glen Cove.
Schedule a Consultation at Locust Valley Dentists
To learn more about your cosmetic dentistry options in Locust Valley, schedule a consultation with Dr. Koster. Call Locust Valley Dentists at (516) 759-2288 or contact us online.
Why choose Locust Valley Dentists?
Our convenient office has hours to fit your busy schedule
You'll find no stress and no judgments here, just a focus on your smile
Our modern, calm, and relaxing office has the cosmetic treatments you need
Learn how to improve the aesthetics of your smile from our friendly team
No Insurance? No problem.
We believe you don't need dental insurance to achieve the beautiful smile of your dreams. We work with our patients and offer a variety of flexible financing options. If you have questions about how much your visit will cost, just let us know.
Locust Valley Dentists works with most PPO insurance providers.
We can help you file your claim and maximize insurance benefits for your cosmetic treatments. Don't see your insurer listed? Have questions about payment options?
Call us at (516) 759-2288 for more information.
" Dr. Koster is the absolute best. I wish I had found her sooner. She really cares about her patients! "
- Kelly M.
" I had a great appointment with Dr. Koster. She is really knowledgable and friendly. Not pushy like my last dentist. Highly recommend! "
- Djuro K.
" Dr Koster is very knowledgeable about all aspects of Dental Care. She also has a caring nature  I would highly recommend her. "
- Linda C.